LHFT has moved to Tennenlohe
The buildings of the Department of EEI in Cauerstraße 9 are being renovated from April 2018 until fall 2019. During this time the Institute of Microwaves and Photonics is located at Wetterkreuz 15 and 13, Erlangen-Tennenlohe.
All teaching and research activities are seamlessly continued at the new location.

Information for Students
Where will my lectures take place?
The precise information about all lectures can be obtained from UnivIS and the respective notices. Lectures taking place in Erlangen-Tennenlohe are labeled with the location "Wetterkreuz 15/13".
In general, lectures and exercises take place on the campus of the technical faculty, whereas seminars and laboratories take place at the institute's office spaces at Wetterkreuz 15 and 13 (Map, except GET laboratories).
Furthermore, the Institute will continue to offer a first-class environment for student-based research (i.e. thesis, research seminar, etc.). This includes fixed personal work places, student labs, computer rooms and more.
The institute's lecture and student rooms are located on the ground floor of Wetterkreuz 15, Erlangen-Tennenlohe. Please refer to the following graphic illustration for the individual locations.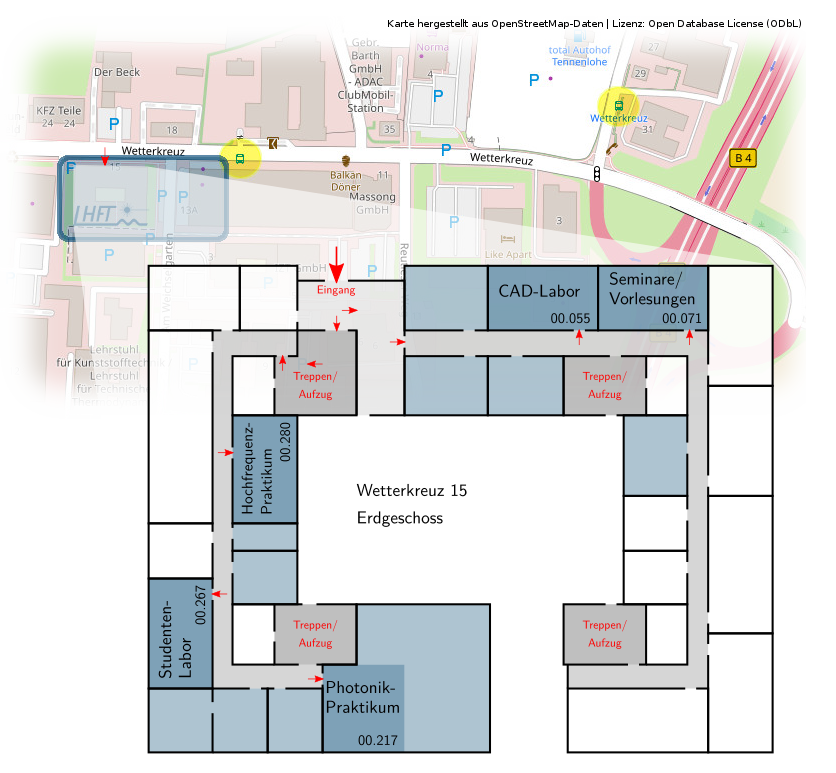 The institute's staff members can be contacted in any technical and organizational matters. The offices are located in direct vicinity to the laboratories on the ground floor and the 3rd floor.
Please note:To enter the building, a valid FAU-Card is necessary, which is given to every enrolled student. Access is granted to the basement for students enrolled in related studies on workdays between 8 a.m. and 7 p.m.
To access the 3rd floor, a special validation is necessary. However, there is a bell which is answered during business hours of the secretariat. For further access, we recommend to arrange a meeting in advance.
How do I get from and to the campus of the technical faculty?
Für die Anreise mit dem PKW stehen Parkplätze direkt um das Gebäude Wetterkreuz 15 zur Verfügung.
If you arrive by car there are many parking lots available close to the main building in Wetterkreuz 15.
If you travel by public transportation we recommend using the bus lines 295 and 20. The closest bus stops are shown on the map below. Furthermore there is a dynamic version of this map available.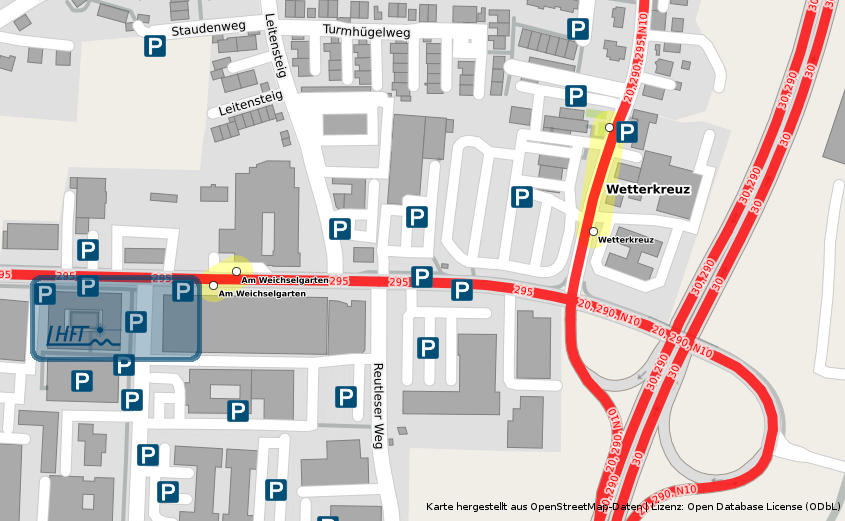 The corresponding bus stops at the campus of the technical faculty are "Erlangen Süd" at Äußere Nürnberger Straße für for line 295 and "Technische Fakultät" in Erwin-Rommel-Straße for line 20 (Note: This is not Egerlandstraße).